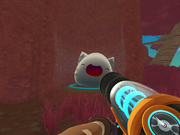 The Tabby Gordo is a large gordo slime. It needs to be fed 65 meat or 33 of it's favorite food, Stony Hen. After this it will pop dropping various items, but not a slime key.
Fun facts and tips
Fun fact: The previous ranchers worshiped it, until they were eaten by a Tarr.
Fun fact/tip: The Tabby Gordo will drop 1-3 crates, that contain food and slime, and several regular selections. It also provides a Slime Key to The Moss Blanket.