| | | |
| --- | --- | --- |
| " | Their coral hue is scientifically proven to be the color of cheer. | " |
| | ~ Slimepedia | |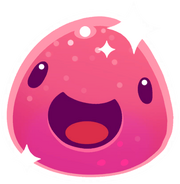 " Pink Slimes are the most common slimes found on the Far, Far, Range. They're cheerful, docile, and the easiest of all slimes to ranch. A pink slime will eat anything you put in front of it, though they have no favorite food,and their plorts are the least valuable of all slimes." ~ Slimepedia Entry
Pink Slimes are the roundest and pinkest slimes of them all. They spawn in the Dry Reef and the Moss Blanket. They also spawn in The Ranch on the first day of the game, four of which are spawned for starting slimes. It is the only slime with the Everything diet, making it unique in that regard.
Rancher tips
Pink Slimes are completely docile to the player, means they are of no danger to the player and the player will never have to worry about being attacked by Pink Slimes. Pink Slimes are also highly abundant across the Far, Far Range.
Pink plorts, when combined with other slimes, can create largos that eat everything. This is helpful for food options, but will produce a lot less money every time you feed it.
Gallery